"Drop Point Paradise" (滴点的天堂)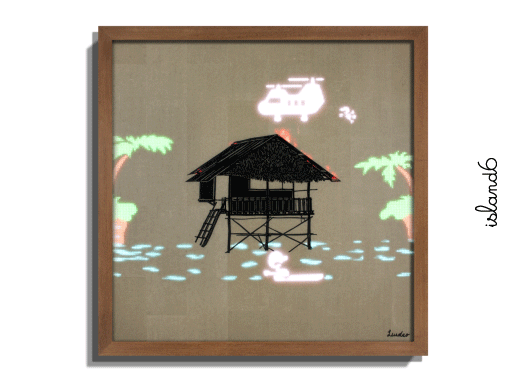 All the work I've done at
island 6 Shanghai
is the result of a collective work. The full credits are to be seen on
the collective website
Tools:
After Effect, Flash
Size:
103(W)×103(H)×5.5(D) cm | 3′5″(W)×3′5″(H)×0′2″(D) inches
Weight:
UNCRATED: 31.4 kg | 69 lbs and 4 oz. • CRATED: 58.3 kg | 128 lbs and 8 oz.
[Blurb]
The signal came in over the cackling, crackling radio on my hip, the sound seemingly drenched in jungle stink and humid indifference. "I have another man coming in…" the little black box chirps. "…and he's coming down fast." The boat is a touchy little devil, more than most would think for something that looks so clunky. But its nimbleness betrays the danger in these soft wooden planks: there are demons underwater here, and they're as focused on what's happening as I am. The pressure builds into a loud opera of anxiety and all I can do is squint at the sky, hoping to spot a little man, a man who's future relies on me now. I move forwards and backwards, spin around and swerve between the floating logs and debris of my past mistakes. And then I see it, a man floating down as if sent from the heavens as a chance to make amends for my mistakes, and I don't even have the time to pray I can. I don't know how I got here or when I'll get to leave, but I'll give it everything I've got until the men stop coming down.
[Ryan Nimmo]
More infos